Wondering what to do this summer in New Zealand?
How about a road trip around New Zealand  in your hired campervan? Hired  New Zealand campervans are a great way to travel as you have transport and your accommodation all in one. To witness the full kiwi attitude and experience, a camping trip is a must.

The Maori culture in New Zealand is an interesting and spine chilling encounter where you can interact and join in in traditions that are celebrated.

New Zealand has a magnificent nature experience with an abundance of nature walks and reserves that can be visited. Reserves are a great way to get back to the basics and often have perfect intermit camping area for you and your hired campervan. This means that you can take in New Zealand's serenity in the most peaceful way, which is how New Zealand atmosphere is intended.
This means that you can take in New Zealand's serenity in the most peaceful way, which is how New Zealand atmosphere is intended.
Many people choose to start their journey by heading North to the Bay of Islands, and some go as far as Cape Reinga Light House, the top of New Zealand. If you come back down the West Coast, you can pass through the Hokianga.
Hokianga Harbour The Hokianga is in the Far North of New Zealand and is a very historical place. It includes my home town of Kohukohu, translated to Maori means "fog fog", and if there's a lot of fog (mist) in the morning, it's generally going to be a fine day!
Across from Kohukohu is Rawene, and you can cross the harbour by taking the local car ferry.
Auckland City
This city is known as the City of Sails, and as the name suggests, many Auckland's residents enjoy some form of water sports.
There are many points of interest, including:
- Kelly Tartons: a large underwater aquarium
- Waitakere Ranges: great place for trekking in native forests
- Queen Street: Auckland's central business and shopping district
- Waiwera Hot Pools: About 20 minutes drive north of Auckland
Wellington
This is the Capital City of New Zealand, and you can visit the Bee Hive for a free guided tour.
Wellington is at the bottom of the South Island and you can catch the Cook Straight Ferry for the South island from here. To make a booking for the ferry, go to:
http://www.theinterislander.co.nz
Christchurch
This is known as the "Garden City", and the botanical gardens in Hagely Park are a nice visit. The park is in the centre of Christchurch and covers several hectares.
The Antartic Centre has become a famous tourist destination, and is located near the airport.
Queenstown
Great scenery and hair raising adrenaline rides - steam boats on the lake to jet boating, Queenstown has it all!

Freephone 0800 33 4444 or from Overseas Phone + 64 9 255 5444
Auckland camper van hire: 12 Pavilion Drive, Mangere, Auckland, New Zealand
Christchurch campervan hire: 3 Doric Way, Waterloo Business Park, Islington, Christchurch City, New Zealand
Email : hire@rentalcarvillage.com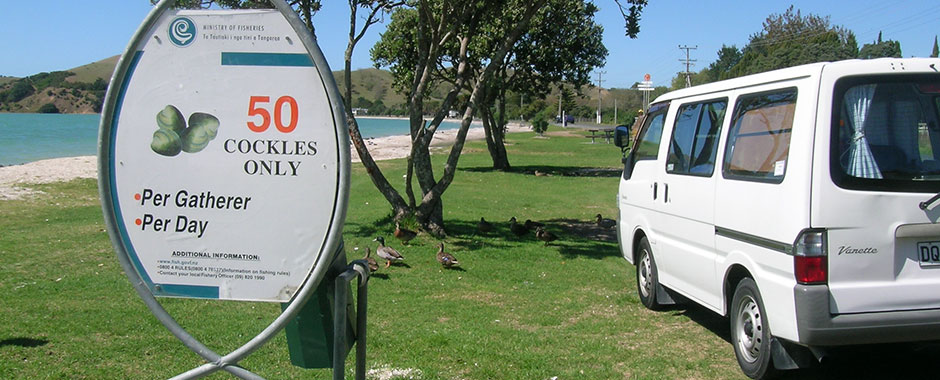 Rental Car Village Auckland
12 Pavillion Drive
Mangere
Auckland
(only 5 minutes from Auckland Airport)
Free phone
(within New Zealand)
0800 33 44 44
Phone :
(+64) 09 255 5444
Email hire@rentalcarvillage.com